Rozhodujte sa na základe dát a podporte tak rást vášho podnikania
Analýza zákazníckeho chovania
Tieto a mnoho ďaľších spoločností využíva VIVIDI pre porozumnie chovania ich zákazníkov
Spoznajte v reálnom čase, kto sú vaši zákazníci
Získajte okamžitú spätnú väzbu na chovanie vašich zákazníkov, zistite ich demografické údaje a zorientujte sa v ich emóciach. Od kamenných predajní, cez banky až po napríklad letiská VIVIDI ponúka analýzu ľudského chovania v reálnom čase s dôrazom na rešpektovanie súkromia a všetkých zásad GDPR.
Let VIVIDI discover in-depth insights for your business and have your analysis accessible anywhere from a web dashboard. All in real-time.
Monitoring pohybu zákazníkov
Meranie počtu návštevníkov
Analýza veku a pohlavia
Analýza emócií
Dĺžka zotrvania
Obsadenosť
Monitorovanie radov
Štatistika dojmov a času prehliadania
Bezpečnosť dát a súkromie sú našimi najvyššími prioritami
Thanks to our Edge AI technology, video data are processed right on the device, no image is stored or sent anywhere. We ensure complete anonymization and utmost data security.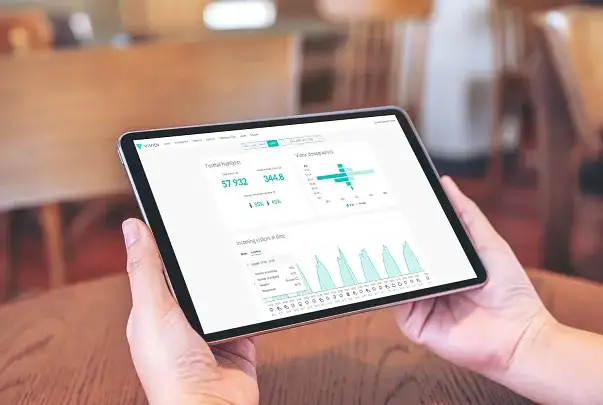 The interactive analysis is generated in real time right inside VIVIDI and sent promptly to your web application. You always have the statistics at your fingertips and can easily export an overview report.
VIVIDI enables new possibilities across almost any kind of business. Look at examples of its utilization or connect with us if your business has special needs.
Máte iný nápad?
VIVIDI zvládne oveľa viacej.
Reach the right audience with the right message
VIVIDI helps you discover who your customers are and enables you to adjust your marketing activities based on their behavior. Communicate in the most efficient way.
Chcete vedieť viac? Prečítajte si, čo o nás napísali:
Make AI-driven decisions. Fill out a form and we'll get back to you within a moment.
Začíname
Never miss a chance to hear about the news and updates from the Vividi world and get our exceptional offers.