Measure the incoming visitors in your location including their demography such as gender and age. Compare localities between each other and monitor trends and their changes during the time. Read this article to learn about the footfall setup, statistics description and how to export and integrate the data to other services.
1. Enable footfall module
To enable footfall module, contact your support contact or reach us directly via support@vividi.io
2. Create localities and assign devices
Once you have the footfall module enabled for your organization, as an organization owner or admin, you have elevated permissions to create, update or delete localities in your organization. A locality represents a physical place where you plan to measure footfall (e.g.: individual retail branches, stores etc.). Therefore, you should assign all the devices to its localities (it is usually done during the installation) on the locality detail page as below.
Locality Retail branch Munich with assigned 5 devices
Determine devices that contain entrances and exits in your locality. In such devices you have to draw footfall boundaries as below. It is recommended to draw the line on the place with the highest density of trajectories (people detections). Swap the inside (green) / outside (red) boundary direction if needed.
Important: From now on, you still won't be able to see the footfall data since you need to assign those boundaries to footfall configuration, see next step.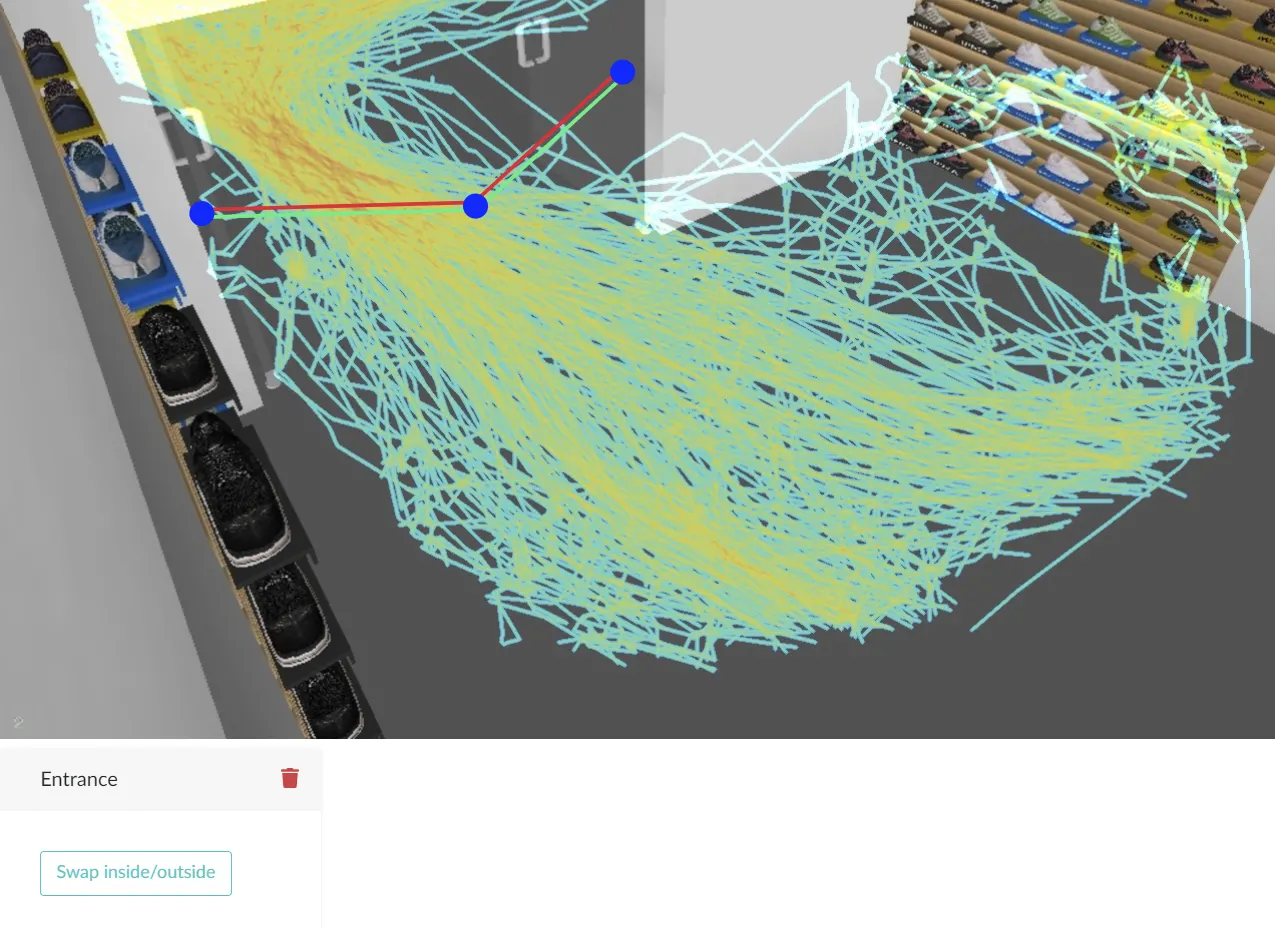 Footfall boundary Entrance drawn at the store entrance (green = inside area, red = outside world)
4. Assign footfall boundaries
Once you have all the boundaries drawn and named, you only need to assign those boundaries to footfall configuration on locality detail page and save, see below. From that moment your footfall data are being collected and you can observe them in real-time on one of the statistics page desrbied below.

Footfall boundary Entrance drawn at the door of the store (green = inside area, red = outside world)
Warning
If you move the boundary, the footfall data won't be retrospectively recalculated based on the new position of the boundary, it only influences any future footfall data. However, if you wish to recalculate the historical footfall data with the new boundary position, it is possible - request the support via support@vividi.io
Organization statistics summary
Go to Home in the main toolbar and observe the footfall section, you will see grouped footfall data from all localities together as well as localities comparison.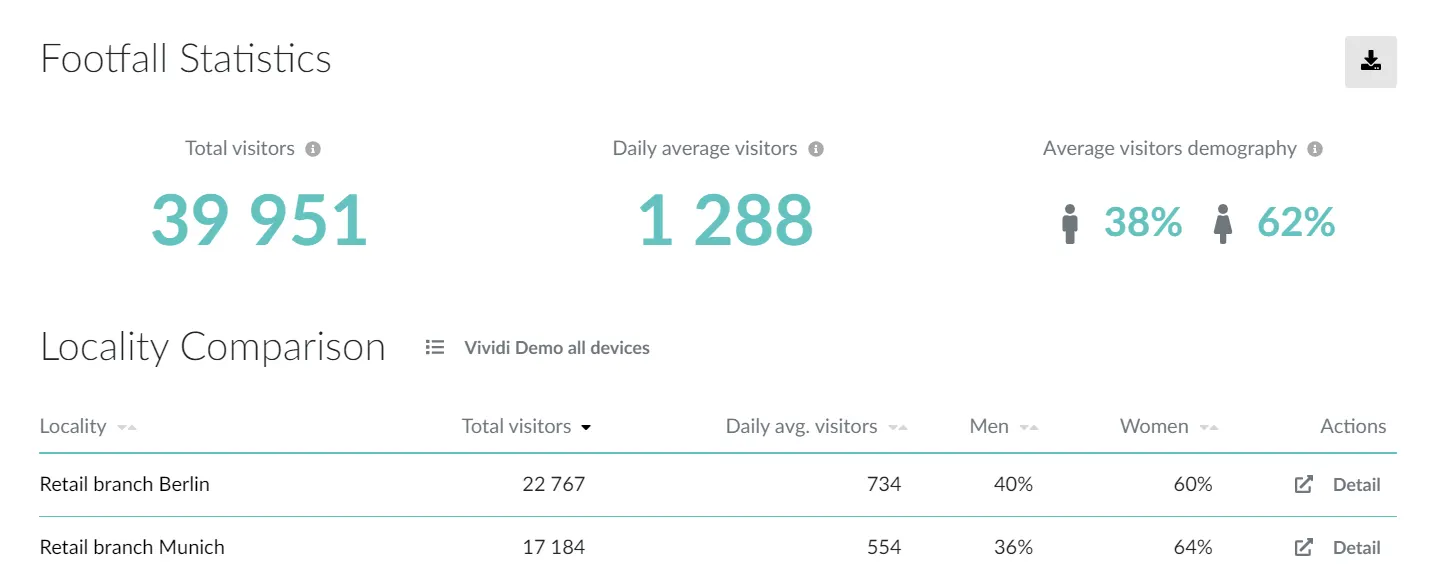 Footfall section on the statistics summary page
Total visitors - Total sum of visitors across all selected localities from selected interval
Daily average visitors - Daily average number of visitors from all selected localities all together from selected interval
Average visitors demography - Average distribution of male and female gender visitors across all selected localities from selected interval
Locality detail statistics
Go to Statistics > Footfall in the main toolbar or click Detail in the locality comparison table on statistics summary to navigate to footfall locality detail page. Observe detailed footfall statistics on individual cards described below.
Main footfall statistics is showing the same data as on the statistics summary page (see description above) only for one selected locality.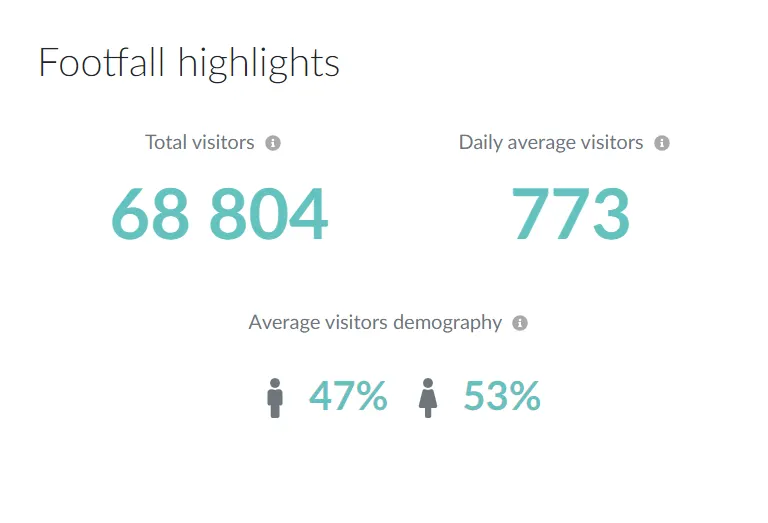 Weather description for given day of the week
To achieve the best accuracy when estimating visitor's gender and age, make sure Vividi is installed within 5-10 metres radius from the entrance. Vividi estimates gender and age based on the whole body (not only from the face) and categorizes visitor to 7 age groups as below.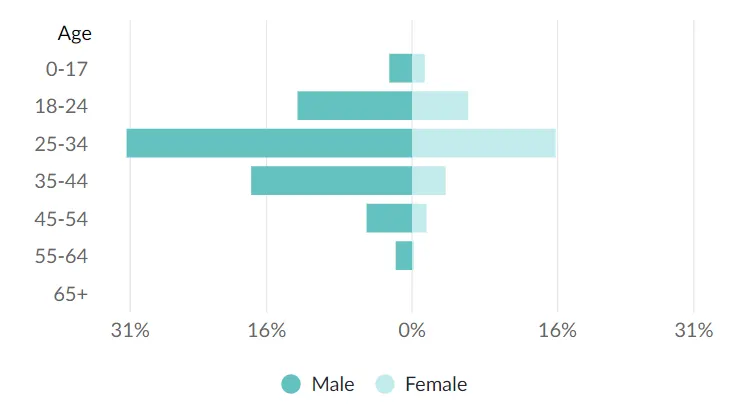 Visitors demographics graph displays data from all incoming and outgoing people passing footfall boundaries (configured on locality detail page)
Incoming visitors in time
Number of incoming visitors crossing footfall boundaries in the selected locality in time. You can display the outgoing visitors for comparison and see how the footfall correlates with the current weather in the given locality.

Development graph showing incoming visitors (crossing footfall boundaries) to the locality in time.
Locality boundaries with heatmaps
TODO To associate names of the boundaries with the actual

List of all boundaries defined in the selected locality
Boundaries breakdown table
Footfall & non-footfall boundaries breakdown tables are showing footfall data for individual boundaries. You can sort the table by any column to find out the outliers.

Detailed footfall statistics distributed per individual boundaries
To enable weather integration with your footfall statistics, you have to enter the physical location of your locality on the locality settings page. Once you set the location of locality, the weather will accompany the footfall statistics with a few hours delay. The current weather in the specific hour or day is also visible when exporting the Excel report.
Weather description for given day of the week
Statistics summary of our demo organization is showing localities comparison of footfall data with previous month – January 2021 vs. December 2020.
Statistics summary page of demo organization
Locality detail of our demo organization is showing footfall detailed statistics including visitors demography and incoming visitors in time during the 3 months period – January 2021 – March 2021.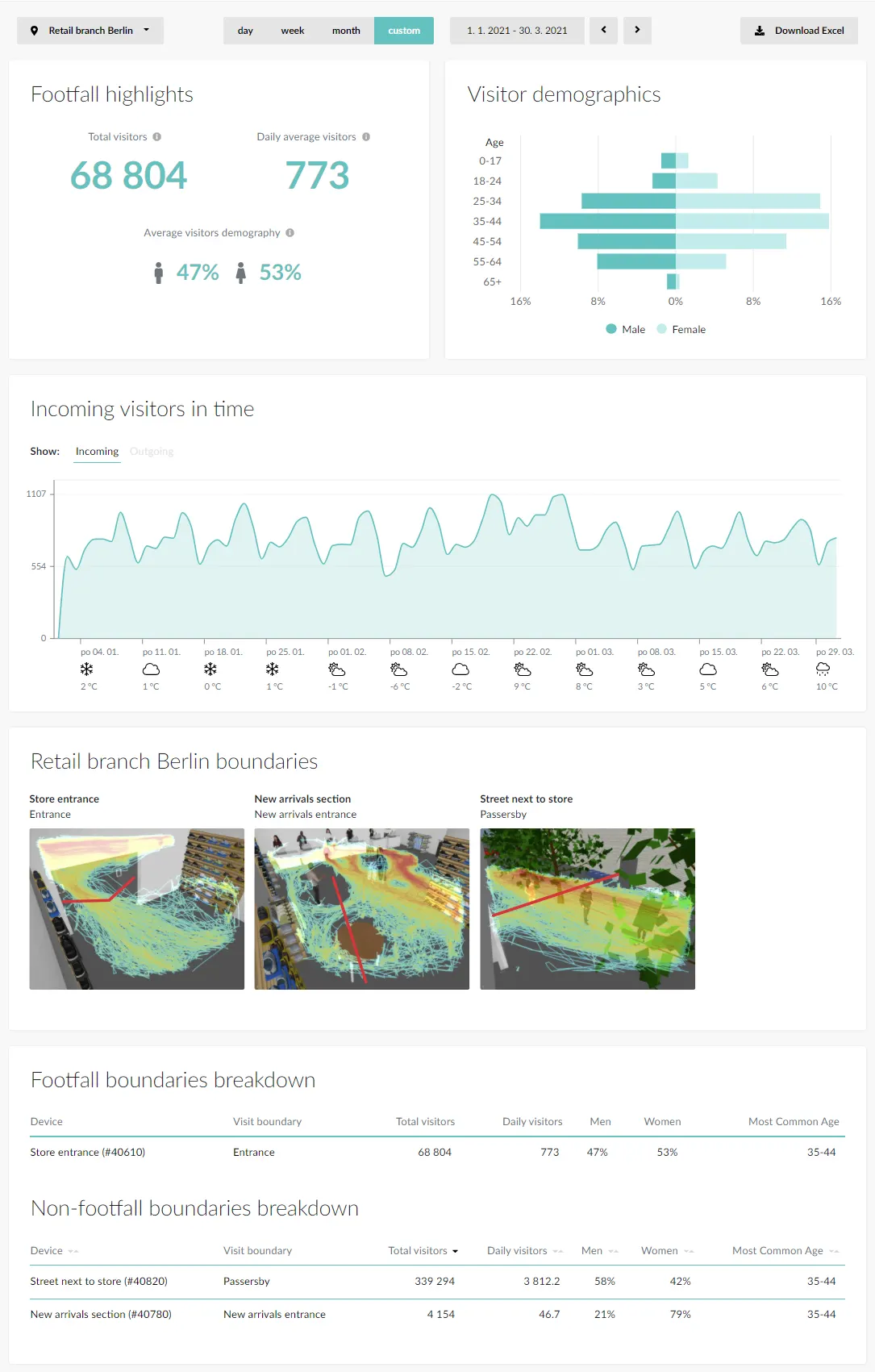 Locality detail page of demo organization
Footfall integration options
In particular cases, you might need to integrate the real-time footfall data from Vividi with other third party services to feed your internal system or to chain actions based on the current footfall. Currently, we offer you two options how to achieve that.
Visit our open REST API documentation. Authorize yourself with the credentials and use the token to call the footfall endpoints such as /api/statistics/footfall/*
Go to organization detail page. Select the tab Data publishers and create data publisher that will push footfall data from the selected locality to specific host via websocket messages. You can specify further configuration such as push interval, port, topic message etc.
Data publishers tab and configuration of the new new data publisher